AFI Live at The Wiltern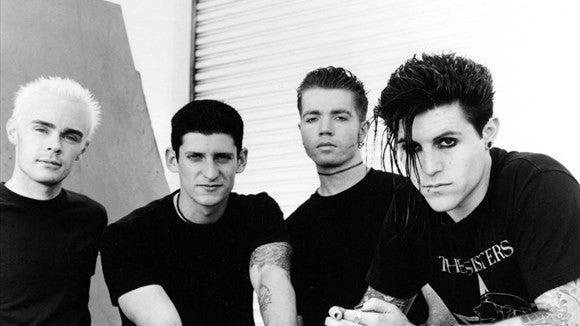 It is with this video and at this moment, it began my love for the band
A Fire Inside
or better known as
AFI
and my man crush on Davey Havok. It was 15 years ago, the not-so innocent 16 year old Francisco Reyes Jr., that I was up late one Saturday night, watching Los Angeles Public Access TV show, Punk-O-Rama, a main source of hearing and discovering new punk rock, hardcore bands back in the day. It was here, that I came across AFI and their music video for "Total Immortal". I was completely entranced and hooked to the video. My best friend Mike would record every episode on VHS, and we would have that video on repeat. Everything from the sound and the look of the video captivated me. From the punk, melancholic sound to the dark, gothic Misfit look of the band of the video, I loved it all.
Next was the video for "Days of Phoenix". It confirmed my obsession and love for the band. That unexplainable feeling of knowing that something is perfect and really represents you at that time. I can still close my eyes and listen to their earlier work, and get chills and pure joy from listening to them. It's this feeling that has me wanting to see them live and chase that euphoric pleasure that you get from seeing a band live that you love for the first time. In the past, whether it was being broker than a single parent with five kids or just flat out missed getting tickets, I allowed myself to go 15 years without seeing
AFI.
I use to download live performances from
Limewire
, for those that remember it. I would watch and be amazed how good they seemed to be live and Davey's stage presence. I would imagine being the pit, moshing for them and joining Davey to sing songs when he would dive into the crowd and be one of us. I loved the fact that he wasn't afraid to jump in the middle of the crowd just to put on a great show for his fans. It made waiting, that long to see them, that much more special and intimate. This passion and love for music has been influential in making who I am as a person and as Never Made. It has went to the point where I named of my prints after an AFI album: 
So, finally after 15 long awaited years, I got to see
AFI
two Saturdays ago on February 25th, 2017 at The Wiltern in Downtown Los Angeles. The wait was finally over. I hadn't been to the Wiltern in some time, so I was glad that they chose this venue. That evening, The
Souvenirs
and
Nothing
opened for
AFI.
I could  care less for
Nothing
. Nothing against them, just wasn't into them.
The Souvenirs
were actually pretty dope. They definitely got my energy and excitement up for
AFI
. Two double whiskeys in and a couple of tall cans and I was ready to make the 16 year olds self at peace by seeing
AFI.
We post up next the sound engineer when the lights went out.
T
hey open up with "Miss Murder". Even though, I am mainly a fan of their earlier albums, opening up with "Miss Murder" didn't get my adrenaline going. It wasn't until they played "Girls Not Grey" that got me fucking going. Whiskey in the gut and a song I liked, I was finally in it. The energy, the feels, and seeing Davey Havok just brought back familiar feelings of being a teenager going to shows.
At the place we posted at, I had noticed the set list by the sound engineer and saw that they were going to play some of my favorite songs like " He Who Laughs Last", "Days of Phoenix", "Silver and Cold", and "This Celluloid Dream". The dopest part of being next the sound guy was that when I asked him if I could get the set list after the show and he said yeah. He even went as far as to find me after the show and hand it to me. So if you're out there sound guy, thanks!
He got me and the whole theater chanting and singing along with him during choruses and jumping in the crowd to be right in with us. His stage presence and charisma elevated the whole performance and my first experience of them.
The last song that they played for the night was a favorite of mine, "The Celluloid Dream". No where on the set list did they have the song that first got me started with
AFI,
"Total Immortal". It wasn't a complete buzzkill, but it would have been a perfect way to end the night. But as most of us know, the headliners always come out for an encore. I knew the two songs that they were going to play for the encore, but I was still hopeful. For their encore, they played "This Time Imperfect" and "Paper Airplanes". I like those songs, but "Total Immortal" is my fucking jam and wanted to experience hearing it live. Encore comes to an end... no "Total Immortal". Cool. It's fine. It's an older song, I get it.
Hope unknown. Sometimes just waking is surreal…
A FUCKING SECOND ENCORE!!!!
Goddamnit, finally hearing "Total Immortal" live felt so damn good. There was no other way they could've topped this or ended the night on a higher note. 16 year old Cisco left with a hard on.
Thanks Davey and
AFI
for putting one on hell of a show and playing the jams.
Leave a comment
Comments will be approved before showing up.