Urban Outfitters Artist Edition!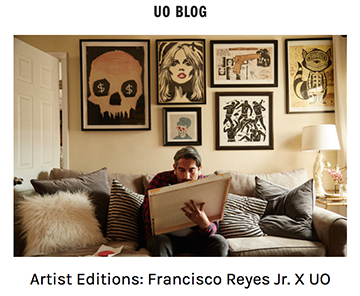 Designed exclusively for Urban Outfitters, Artist Editions is an ongoing series of limited edition graphic t-shirts created by a rotating roster of artists from around the globe. 
Better known by his alias, Never Made, Francisco Reyes Jr. is a Los Angeles-based graphic designer whose work is steeped in the DIY ethic and the principle that things are never made and always earned. Head to the blog to read our interview with Francisco and to see his latest designs for UO's Artist Editions tee series. 
Can you tell us a bit about yourself and your background? 
I am Francisco Reyes, Jr. I am a Graphic Designer and Artist born and raised in Los Angeles, CA. I am currently working at Shepard Fairey's Studio Number One. I have a Bachelor's in Graphic Design. Ever since I was a kid, I have been into art, drawing, music, and design. My dad used to take my younger brother and I to the video store and I would always pick video games to rent solely based on how cool the cover art was (same went for the movies I would rent, unless it was Ninja Turtles or Three Ninjas). These aesthetics were appealing to me even before I knew what Graphic Design was, I just knew that I liked the visual language that a product was able to convey to me. Now, as an adult, I am grateful enough to say that I get to do it as a profession!
You came up in the DIY and skate scenes— how have those subcultures inspired your work? 
These subcultures shaped me, from m teenage years until now. It's always been a constant thread in my life. I don't really know anything else. In the 10th grade, I started my own skate brand called "AFFIX". I made the logo in Microsoft Paint, bought iron-on paper, and ironed the logo on shirts for a few of my friends. A couple of years later, I joined a band. I designed the band's logo and printed our shirts in my backyard, stole fliers from Staples and passed them out at local shows. The South Bay had a big backyard punk scene which also inspired me to throw my own shows in my parents backyard. I would use the money I made at the door to buy more shirts and paint to print more merch. I've taken those same philosophies (except the stealing) and I have applied them to my current project, 
Never Made
.
I
Where did the idea for Never Made come from? 
Never Made roughly translates to never finished. It is an ongoing project that really has no end in sight as long as ideas and creative juices  are flowing. As a graphic designer, we tend to want to brand everything, so instead of branding all of my work with my name… i created an alias much inspired by Shep's Obey Giant campaign. His art had the ongoing Obey theme and propaganda aesthetic, people were aware that he was behind it.
You work closely with Shepard Fairy at Studio Number One and Obey Giant, what do you do there? 
Studio Number One is a design agency that has multiple clients, my favorite being Obey Clothing. Working under Shepard's creative direction, myself and a group of designers create many graphics for Obey Clothing. On top of designing t-shirts, I also am design/production assistant for Shep. Working under him has taught me to be efficient in design, and also a relentless work ethic. It's inspiring to see him knock out project after project with precision and finesse. Watching his projects from beginning to final product is always inspiring. Getting to sit 3 feet away from him for 40 hours a week and listen to music and shoot the shit is truly a dream come true. He's the man.
Can you tell us a bit about your designs for Artist Editions? How did you get to the finished pieces?
I wanted to bring something different to the table… the female form is an ongoing theme in my work while still maintaining a subversive twist. That makes it wearable for a guy or a girl. "Shitty is Pretty" embodies the current state of vanity culture brought on by social media. "Still Life" is a classic flip on the art school favorite… a bowl of fruit or a vase full of flowers but done in a pop art aesthetic. It's meant to be ironic. If you look closely, you'll find a black widow creeping through the roses.
What are your pet peeves when it comes to design? 
Shitty typography. You can have the most amazing illustration or central image, but If your typography sucks it ruins the whole thing. Type can make or break a graphic or a poster. 
Are there any special considerations you make when designing a t-shirt or print vs. a pin? 
Yes, absolutely. When designing a t-shirt, the hierarchy is usually the brand name, then central image, then supporting text. When designing a print, for me personally, I get to trim the fat and concentrate solely on the central image. Only because I'm always designing t-shirts, so it's nice to not incorporate text unless its absolutely needed to convey a message or concept. This can be challenging because text is usually a way to fill negative space. When it comes to pins, simplifying a design is key. You have to find a balance between the right amount of detail and simplicity. 
What makes wearing a t-shirt so special? 
A t-shirt is the most basic garment we all have in our wardrobe. It's our everyday go to garment, next to socks and underwear. But, it is usually the one we use to make the biggest statement. We use t-shirts to express our selves. A message or idea we stand behind. It lets us show the world who we are and what we're into. It's an extension of our personality. 
Do you have any favorite t-shirts of all time? 
I don't have one favorite shirt in particular but I have to say that I'm a huge fan white on black shirts. Like The Ramones shirt or the Joy Division pulsar are just as cool now as they were when they first came out. They're classics that will never go out of style. 
Leave a comment
Comments will be approved before showing up.